ATSEA Regional Demo Project
Participants are welcomed by representatives from Australian Government, Charles Darwin University, ATSEA and NAILSMA in the opening ceremony.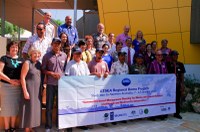 The Arafura and Timor Seas Ecosystem Action (ATSEA) programme organises an exchange visit between Indonesia, Timor-Leste and Australia for Regional Demo Project. The exchange aims to support the existing community based management efforts by facilitating exchange of practices and experiences, and development of networks, among existing community-based marine and coastal managers. This exchange is also intended to demonstrate the value of collaboration among the littoral nations of the Arafura and Timor Seas for the conservation and sustainable use of those seas.
The visit to northern Australia are participated by five community representatives from Rote Island in eastern Indonesia and five community representatives from Dili, Com and Batugade districts of Timor-Leste.
The visit is hosted by Charles Darwin University (CDU), the North Australia Indigenous Land and Sea Management Alliance (NAILSMA). During this exchange programme, the participants visit various locations around Darwin and eastern Arnhem Land in the Northern Territory.
Topics covered during the tour include:
I-Tracker: using simple technology to record land and sea data to assist with planning and management of natural resources.
Aquaculture (sea ranching) including trepang, clams and other products
Approaches for establishing Community-based management of marine and coastal resources

During this visit, participants are expected to share ideas and information with other participants. They are expected to participate in group discussions regarding their expectation of the visit, what they have learnt and how it might be relevant or useful to them and their communities. The participants are encouraged to ask questions both of the session facilitators as well as Aboriginal host organisations.