Indonesia Demo Project Concept Papers Selection Meeting
As decided by the Project Board in PBM-2, national demo project implementation in Indonesia will use NGO Grant modality. The eligible grantee must be non-governmental organisations, community based organizations, public institutions, research institutes, local authorities, and other organisations that have a strong presence in the region where they are working and a good relationship with beneficiaries.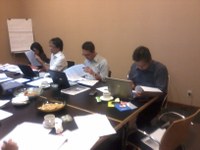 The organisations must have an appropriate, proven competence, qualification and experience in the specified area of the proposed action. The key staffs must have the necessary skills, experience and capacity to carry out the project.
Therefore, PMO must revised demo project guidelines, and develop an announcement of "call for proposals" to invite local NGOs or Community Based Organisations (CBOs) to send a concept paper that reflect what they are going to do in demo project implementation. After its completion, PMO then announced the "call for proposals" on the project website and spread the information. In parallel, PMO was also form a selection committee, and determine the assessment mechanisms.
Until deadline, there were 12 NGOs that send the concept paper. A Selection committee then held a meeting to review these concept papers on June 12, 2012. The following aspects will be considered for the evaluation:
Suitability of the approach and methodology, including the timeframe, to achieve the objectives as stated in the proposal
Used of participatory approach to enhancing the capacities of coastal communities to improve their livelihoods
Capacity of the staffs to implement the activities including technical approach, previous experience with same type of works, availability of key equipment and materials and current workload
Cost-effectiveness and provide co-financing either cash or in-kind
Mechanism for project progress monitoring and for evaluating the project
Partnership with other organisations (e.g. NGOs, Industry, government agencies, research institutions) that may be able to provide technical supports and expertise throughout the life of the project
As a meeting result, the committee finally get a shortlist of candidates of NGOs who obtained the greatest score.