Timor-Leste SAP & NAP Consultation Meeting
After successful SAP consultation meeting in Indonesia, the same consultation meeting was held in Timor-Leste as well. The SAP & NAP Timor-Leste Consultation Meeting was conducted on 5 to 6 June 2012 in Dili. The meeting was attended by PMO staffs, all members of National Inter-Ministerial Committee (NIMC) and SEG members from Timor-Leste.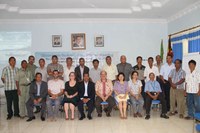 After two days of discussions, the meeting was produced:
Advice and suggestion to assure ATS SAP in line with Timor-Leste marine, fisheries policy and planning, it could be well implemented.
Annotated-outline of ATSEA Timor-Leste NAP.
On the next day, ATSEA was discussing preparation of national demo project in Timor-Leste. As decided by the Project Board in PBM-2, national demo project implementation in Timor-Leste will use "Project Cooperation Agreement" (PCA) modality. It means that the Government of Timor-Leste will implement the national demo project. The meeting succesfully agreed on issues, proposed locations, budget, work plan and PCA draft.