Q-4 2011 Report Meeting
In regards to ensure the achievement of the project objectives, the ATSEA Project Management Office undertake a consultation meeting that will be participated by UNDP and UNOPs as well as to evaluate and reporting ATSEA Quarter-4 activities for the year 2011.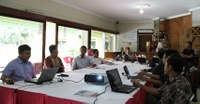 The meeting was conducted in Bogor – Indonesia from 5 to 6 January 2012.
Objective of the meeting
Evaluate the progress and develop report of Q-4 programs in term of activities and financial achievement.
Develop monthly plan of action in detail for each components for Q-1 2012.
Discuss other business, such as preparation of study in TL, preparation of ATSEF history book writing and baseline reports prepared by consultants

Output
Quarterly Monitoring Report (QMR) for Q-4
Quarterly Operational Report (QOR) for Q-4
Action Plan for Q-1 2012

Participants
This two days meeting was attended by:
Persons from PMO
ATSEA Indonesia National Coordinator
ATSEA Timor-Leste National Coordinator
ATSEA Indonesia National Consultant
UNDP Indonesia – Environment Unit
Notetaker

Meeting Chair
ATSEA Regional Project Manager chaired the meeting.