Development of QMR-1 2012 Meeting
In regards to ensure the achievement of the project in during the first Quarter of 2012, the Project Management Office undertake a coordination meeting that consists of evaluation the activities and its achievement during the first quarter of 2012. This meeting was conducted in Bogor (West Java) from 4 to 5 April 2012.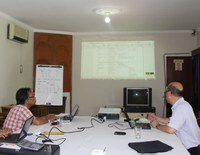 As far as the maximum achievement of the meeting objectives concerns, this two days meeting were attended by persons from PMO, UNDP Indonesia and also Resources persons from Agency for Marine and Fisheries Research and Development (AMFRAD-MMAF) Indonesia.
This meeting discussed and evaluate the progress of the implementation the first quarter programs 2012 in term of activities and financial achievement.
By the end of the meeting, the Quarterly Monitoring Report for Q1 2012 was completed.