FGD on Quarter-1 2012 Activities Planning
Starting the year 2012, most of the planned activities have been undertaken, in term of administrative and technical issues, towards better planning activities and budget for year 2012. In accordance with those matters mentioned above, "FGD – ATSEA Quarter-1 2012 Activities Planning" will be conducted in Bandung from 19 to 20 January 2012.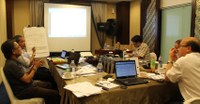 Date and Venue
The first day of the meeting was take place in Asmila Boutique Hotel, Jl. Setiabudhi No.54, Bandung, while the second day will take place in Institut Teknologi Bandung (ITB), Jl. Ganesha, Bandung.
Objectives:
To prepare materials for Regional Scientific Committe Meeting and Project Board Meeting
Consultation with Australian focal point regarding SEG and PBM preparation in Canberra
To discuss the draft Papua New Guinea Medium-sized Project Document
To discuss capacity building cooperation format with ITB Bandung

Meeting outputs:
develop and update checklist of logistics for RSC and PBM
draft PNG Prodoc reviewed by PMO before consulted with UNDP Regional Technical Advisor
draft of cooperation format discussed

Participant:
ATSEA PMO, ATSEA Indonesia Coordinators and Indonesia Consultants, ITB lecturer, resource persons from MMAF Indonesia.