ATSEA Cruise 2 With RV. Solander
The launch of the 2nd field cruise for the Arafura and Timor Seas Ecosystem Action (ATSEA) research project in the Arafura and Timor Seas, held on the 30th June 2011 in Darwin. The cruise is gathering information on the physical, chemical and biological characteristics of the Arafura and Timor Seas.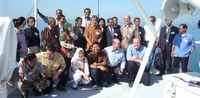 Information will also be provided on how the North Australian Marine Research Alliance (AIMS, CDU, ANU and the NT Government) is working on research to sustainably develop and manage Darwin Harbour and NT coastal waters.
The Australian Institute of Marine Science (AIMS) has made available its Research Vessel Solander to carry out field work in this area during the months of June-July.