Regional Demo Project Consultation Meeting
Entering the third year for ATSEA, will be a critical phase where the project must already be in full speed of its implementation to fulfil the activities and deliveries as mentioned in the Project Document.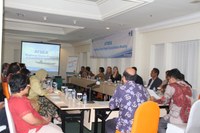 ATSEA conducted a Regional Demo Project Consultation Meeting from 30 to 31 July 2012. This regional consultation meeting is supposed to review the plan for the ATSEA demo project implementation.  Implementation of ATSEA demo projects is an important step to prove what you were able to identify as the Priority Environmental Concerns in the Transboundary Diagnostic Analysis.  This analysis is the main source to develop a more strategic concept called the Strategic Action Program or SAP for the Arafura and Timor Seas. This output will be used by government of the littoral nations, including Indonesia, to manage our resources in this region.  Currently, the fisheries resources of the Arafura Sea have been one of our major contributors to economic development in Indonesia.  But I do know that this resource is not without limit. Overfishing, IUU fishing and other irresponsible fishing practices taken place in this region just add to the complexity to manage these valuable resources.  Having a regional cooperation like what ATSEA is trying to do will assist the government to put a better management measures to achieve the sustainable development goal of Arafura and Timor Seas.
The Arafura and Timor Seas are parts or the Coral Triangle region that has the highest marine biodiversity in the world.  It is our obligation to safeguard the environment including its marine biota such as marine mammals, turtles, coral reefs and other endemic species that are unique to this area. Through this ATSEA program, all stakeholders can provide their best knowledge possible to protect our precious marine and fisheries resources by working together as neighbours.
Project management deeply appreciate all participants' attention to the importance of this meeting. Any idea and concept presented in this meeting will be valuable for the success of achieving sustainable development in Arafura and Timor Seas.
The meeting result some suggestions for priority actions:
IUU fishing (tap into the Regional Plan of Action (RPOA))
Red snapper studies
Policy gap analysis on pollution (notably oil and gas industry)
Mangrove forest studies (link between two National Demo Projects)
Arafura and Timor-Seas (ATS) beach clean-up day

In addition, concerning Regional Demo Project site selection, depending on the nature of the idea proposed, the project may be done through studies, by data review of other studies, or by implementation of actions on the ground. Project location will therefore depend on the action selected. Regional Demo Project modality will be decided pending a final decision on the nature of the project.