Indonesia SAP & NAP Consultation Meeting
ATSEA has done the TDA for Arafura and Timor Seas (ATS) and endorsed by Project Board in March 2012.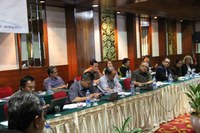 Once the TDA for ATS has been endorsed, the next action that should be undertaken is developing a Strategic Actions Program (SAP). In order to harmonize the ATS SAP with the actual condition of each ATS countries, consultation meeting with all national stakeholders in each country is required. The consultation meeting was conducted first in Indonesia on 23 to 24 May 2012. The meeting was attended by all members of National Inter-Ministerial Committee (NIMC) Indonesia, Indonesia SEG (Core and General) members, SAP International Consultant, Representative from UNDP CO Indonesia, PMO staff.
After two days of discussions, the meeting was produced:
Advice and suggestion to assure ATS SAP in line with Indonesia marine, fisheries policy and planning, it could be well implemented.
Annotated-outline of ATSEA Indonesia NAP.