Project background
More than 25 percent of the world's population either lives on or obtains its water from karst aquifers. Karst is a special type of geologic environment that is formed by dissolution and corrosion of soluble rocks, such as limestone and dolomite. Karst hydrogeology is characterized by high fracture controlled permeability, almost total absence of surface water, high infiltration rates and rapid underground flows of groundwater.
Knowledge on complex karst hydrogeological systems and their behaviour need to be extended and consolidated; it should form a solid basis for a sustainable management of these precious and vulnerable water resources. The Dinaric Karst Aquifer System, shared by several countries and one of the world's largest, has been identified as an ideal opportunity for applying new and integrated management approaches to unique karst water resources and ecosystems.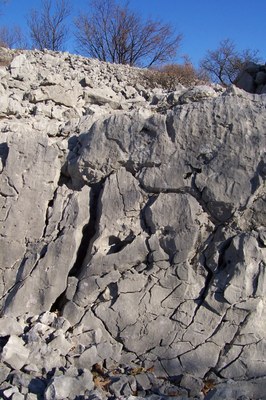 Other Notable Karst Areas on Global Scale
The DIKTAS project is the first ever attempted globally to introduce sustainable integrated management principles in a transboundary karst freshwater aquifer of the magnitude of the Dinaric Karst System. At the global level the project aims at focusing the attention of the international community on the huge but vulnerable water resources contained in karst aquifers (carbonatic rock formations), which are widespread globally, but poorly understood.
At the regional level the project's objectives are to facilitate the equitable and sustainable utilization of the transboundary water resources of the Dinaric Karst Aquifer System, and protect the unique groundwater dependent ecosystems that characterize the Dinaric Karst region of the Balkan Peninsula.
The project aims at adding the multi-country, regional dimension needed to reform and harmonize present national policies and physical plans, and address the transboundary implications of the shared nature of the resource. The establishment of multi-country mechanisms for cooperation and the enhancement of regional awareness and stakeholder involvement are all complementary and adding value to the results of the project, since the countries sharing the Dinaric Karst Aquifer System until now have been adopting a single-country, fragmented approach to groundwater exploitation.
The benefits resulting from the project are expected to manifest at global, national and local level:
the improved protection and sustainability of a globally significant transboundary freshwater resource, the Dinaric Karst Aquifer and its ecosystems, reflecting in improvements in the overall stability and water security in the region;
the demonstration of globally replicable approaches to the management of karst aquifers and ecosystems;
the enhancement of the effectiveness of other complementary GEF initiatives in the region (among others: the Ohrid, Prespa and Shkodra Lakes projects, the Croatian Karst Biodiversity Protection project, the Strategic Partnership for the Mediterranean Sea LME and its Investment Fund sub-projects (e.g.: Neretva Basin, Montenegro Tourism, etc.).
Click here to dowload the project flyer in English.